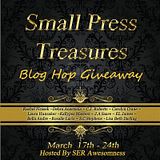 Click to check out the hop & sign up!
As somebody who's got books out in all publishing formats - NY, small press and self-pubbed, you know I'm very into publishing diversity. I'm thrilled at how many ways there are for readers and authors to find each other.
So I really love the idea behind the new
Small Press Treasures Blog Hop Giveaway
created by the lovely bloggers of
Sam, E and R's Awesomeness
. This is a hop dedicated to blogs discovering sharing small press and indie treasures with each other. And, I was really thrilled to be named on Sam, E & R's roster of small press faves for my Head Rush release!
Do you have a few small press or indie faves you like to recommend? If so, this hop is for you! In fact, I have a bunch to recommend - I should prolly do it too! Once I figure out how a hop works. I'm a total hop virgin.
Anyway, the
Small Press Treasures
hop runs from March 17th to the 24th, and you do a giveaway related to small press and indie authors during that week. I'm looking forward to seeing the familiar and the new-to-me names that come up on this!